Is there an additional housing cost associated with living in a Learning Community?
No, you will pay the same rate for your room as listed on the Residential Life website.
When will I be notified whether I have been accepted into a Living & Learning Community?
Returning Students:  Typically late February to early March
New Students: Those who apply before May 1 will be notified prior to the start of Orientation in late May
What are expectations for students living in a Learning Community?
Learning Communities provide an environment where students will approach a topic in a unique way with a group of students who share their interest. Students can select a topic that mirrors their major, or one completely different to round out their educational experiences at UConn. The success of a Learning Community depends on the active and positive participation of students living there.
Students living in a Learning community are required to take a course or course cluster together in the Fall and Spring semester. In addition, students may be required to serve on committees within their community and participate in events, activities, or field trips.
Learning Communities provide a fun way to learn, make close friends, network with people, and participate in programs and opportunities across campus and beyond! Students often remark that their LC feels like a family rather than just a floor.
Will living in a Learning Community limit my college experience?
No! In fact, Learning Communities are meant to enhance your experience and help connect you with opportunities and resources that otherwise would be difficult for you to discover on your own on this large campus. Taking a Learning Community course connects you with UConn faculty and staff who are interested in your academic and social success. They can help you figure out how to make the most of your time in college, starting in your first semester!

Students say they feel a sense of belonging to a close-knit community that is supportive, and they still have all the freedoms of other students living in the Residence Halls around them. They are able to make friends all over campus and pursue other interests.
How much of a time commitment will living in a Learning Community require?
Students devote time to taking a course or a course cluster together, and they participate in events, activities, and field trips throughout the year. Students may also serve on committees in their community (such as Public Relations Committee, Social Committee, etc.) and/or complete service-learning activities. Some events are required and others are optional. You will still find time to commit to your academic studies, to hold down a job, to pursue other interests, and to have fun!

Can I request a roommate who does not apply to live in the Learning Community (LC)?
No, unfortunately due to the high number of applicants you will need to live with someone within your respective Learning Community.
Can I apply for more than one Living Learning Community?
Students may not apply for more than one Living & Learning Community. However, most LCs are open to students beyond their first year. So, you could apply to live in one LC for one year and then another the following year.
If there is a non-residential Learning Community for your major, you can enroll in the 1-credit class, and also apply for a Living & Learning Community.
Can I apply to live in a Learning Community if I plan to Study Abroad in the Spring?
Yes. We hope you stay in touch with your UConn friends while you are traveling abroad.
Where on campus are the Residential Learning Communities located?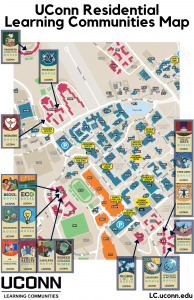 What are Non-Residential Learning Communities?
These are 1-credit major-based FYE (first year experience) courses students in the same major enroll in during their first semester. The course is taught by a professor or advisor from their major, and provides students with information about career paths within the field, as well as connecting them with opportunities and tips to be successful. Students meet peers who share their major which provides a network of support during their college years, and beyond.
Students do not apply to participate in a non-residential Learning Community. Some majors are automatically enrolled in the corresponding UNIV 1810 FYE course, while others have limited space, so students must enroll early to participate.