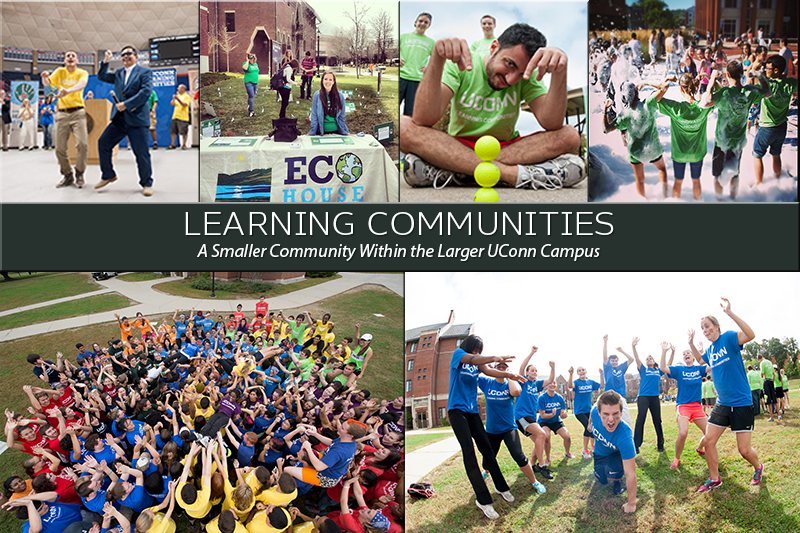 The social architecture of the Learning Community Program provides students with the opportunity to engage in coordinated programming as well as student driven activities. The program structure aids students in developing a variety of life skills, a sense of self awareness, and connections with current students.
Life Skills: Students will identify their inventory of life skills, and skills they wish to develop. Students will make plans and monitor progress as they develop skills further in areas such as self-awareness, academic self-efficacy, communication, critical thinking, creativity and innovation, global engagement, personal responsibility, social development and transition.
Self Understanding & Personal Growth: Students will demonstrate that they have an accurate view of themselves. Students will be able to express areas of personal growth and development while at UConn.
Social Development: Students will demonstrate enhanced social development while at UConn, in close relationships, friendships, and as members of various communities.
---
Flagship Events
Learning Community Kickoff: Each year the Learning Community office welcomes all new and returning learning community students by having a semester kickoff event in Gampel Pavilion.
Learning Community Field Day: A fun-filled day of activities, including a relay race, tug-o-war, volleyball, and much more
Learning Community Research Connections: A networking event held in the Fall semester to connect Learning Community students to faculty, staff and student researchers at UConn.
---
Community Based Events
Dinner with the Dean: Students in certain major based learning communities have the opportunity to meet and talk with the dean of their respective college or program.
End of the Year Celebrations: Each community holds an event at the end of the spring semester as a way of wrapping up the year, in years past events have ranged from banquets, to picnics, to pizza parties.
Various field trips
---
Recurring Programs
Snack and Study: Study Halls are held in certain Learning Communities allowing students the ability to grab a snack and receive help from a graduate student.
House Dinners: Communities hold house dinners to aid in the establishment of a sense of family.
Panel Discussions: Throughout the semester, select communities assemble panels that discuss current topics correlating to that respective community.
---
Student Driven Activities
Are orchestrated and executed entirely by students