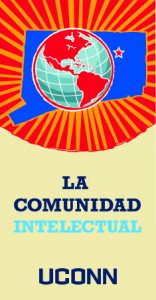 La Comunidad Intelectual (LCI) is a Living/Learning Community with a mission to nurture a sense of community, to learn about individual's Latinx identities and/or the Latin American and Caribbean diasporas, to support a commitment to learning, and to empower students' engagement on the UConn campus and in our communities. First- and second-year students live together in a residence hall on campus, learn together in seminar courses, and are empowered to succeed at UConn and beyond.
In collaboration with campus partners, including El Instituto (ELIN) and the Puerto Rican/Latin American Cultural Center (PRLACC), LCI works to create a welcoming space on campus for students who identify as Latina/o/x and/or who are interested in issues that affect the Latin American and Caribbean communities.
A central LCI goal is to create a sense of community among students which is guided by the LCI leadership team. We strive to build a sense of community through seminar courses, events, and our shared community space in the Peter J. Werth Residence Tower.
La Comunidad Intelectual at UCONN
LCI Leadership Team
LCI Courses
FYE (First Year Experience) Seminar (Fall), UNIV 1810, 1-credit. The theme of this course is "Transitioning to UConn & LCI". The course is designed to support students with their transition to and success at UConn. Students will learn about resources available to support their personal and academic success. It will also introduce students to LCI and issues that impact the Latina/o/x community at UConn and in the world. Students will also be introduced to campus partners, such as the Puerto Rican/Latin American Cultural Center (PRLACC) and El Instituto (ELIN).
*
FYE Seminar (Spring), UNIV 1810, 1-credit. The theme of this course is "Surviving & Thriving" with a focus on navigating Latina/o/x identities at a Historically/Predominantly White Institution (H/PWI). Students will engage in weekly conversations surrounding the experiences of Latina/o/x students in colleges and universities, as well as how to learn from and deal with these experiences. Intriguing conversations are part of building a safe space for students to build community with one another and develop a sense of belonging at a H/PWI. Topics include dealing with changing family patterns, feeling first-generation guilt for those who are the first in their family to pursue a four-year baccalaureate degree, and dealing with racism and microaggressions. Students will work on a semester-long Gallery Walk group project designed to pave the way for the success of future UConn LCI students.
*
Sophomore Seminar (Fall), UNIV 3820, 1-credit. The theme of this course is "Contributing to our Comunidades". Students will engage in service-learning activities and have an opportunity to contribute to our Latina/o/x communities near the Storrs, Connecticut UConn campus. Students will select a project to participate in and learn from throughout the term. Students will conduct reflections, group discussions, journal entries, and a final assignment to demonstrate their knowledge gained during their resume-building service-learning experience.
*
Sophomore Seminar (Spring), UNIV 3820, 1-credit. The theme of this course is "Thinking Ahead". At this point, LCI students will have gained a strong foundation for success by learning how to navigate and engage with UConn resources, developing a deeper understanding of their identity at a H/PWI, and by engaging in a community service-learning project. This foundation will assist students in thinking about their goals for post-LCI and once they graduate. Students will participate in career and graduate school exploration, resume building, networking, and learning other tips and skills to prepare for their future.
Frequently Asked Questions (FAQs)
What is a Learning Community?
A Learning Community is a wonderful way to help incoming students with their transition to university life at UConn. Students learn to navigate UConn resources and opportunities related to their interests and engage in meaningful programming to help them develop personally and professionally starting in their first semester. There are mentors available to support students throughout the academic year. The LCI experience helps students build a sense of belonging, connect with support systems, and build relationships with other students as soon as they enter college.
*
Where is LCI located?
LCI is located in the Peter J. Werth Residence Tower, a residence hall (dorm) on the UConn Storrs main campus. Students live together on a floor that has a lounge and study rooms that overlook the beautiful UConn campus. Downstairs in Werth Tower is the LCI Community Room  where classes and events are shared and students can enter at other times to study, work on classwork, and spend time with fellow LCI members. Werth Tower is also home to the UConn Innovation Zone, a makerspace open to all students on campus that is equipped with 3D printers, laser cutters, textile and electronics stations, woodworking tools, virtual reality equipment, crafting supplies, and much more. Students can learn how to use equipment, participate in Skillshare workshops, take a course in the space (UNIV 1820: Intro to Making), and participate in events such as the annual Maker Faire, Pinewood Derby Competition, and Women in Making conference.
*
Are LCI courses required? 
Yes. To be a member of LCI, students are expected to enroll in and complete a LCI course in each semester they are a member. Classes meet weekly for about an hour and engage students in lively and meaningful discussions and activities.
*
How do we build community in LCI?
The LCI leadership team works hard to create a sense of community among LCI members through courses and activities that occur throughout the year. Taking your FYE course with students you live with allows a space to discuss issues central to our experiences on campus. Throughout the year, LCI hosts several fun events. For example, every #thirdthursday, we get together and play games as a community such as bingo, scavenger hunts, Guess Who, and Among Us. We also strive to make the LCI Community Room in Werth Tower welcoming so it feels like a second home for students. Student feedback is also highly valued, and we use it to improve courses, to inspire and improve events and community traditions.
*
Will joining LCI prevent me from being active in other campus activities?
No. Think of LCI as a springboard, where you will be in close community with others interested in having a shared experience. LCI will be one of the first places on campus where you build connections and feel like you are a part of the UConn community. Students then get involved in many other activities on campus, from joining student clubs to participating in undergraduate research.
*
How do I apply to live in LCI as a new student coming to UConn?
Once newly admitted students pay their UConn Enrollment Deposit (typically in March/April), they will gain access to the UConn Housing Application within about 5 days. You can request La Comunidad Intelectual on the Housing Application. Incoming students are admitted on a randomized basis with students who apply before May 1 being prioritized.
You can review the most updated information on how to apply here.
*
Do I have to reapply to LCI for my sophomore year?
Yes. When you apply for housing for your sophomore year, you can indicate an interest in joining LCI. You will then be emailed a Supplemental Learning Community Application to complete and you may participate in an interview.
You can review the most updated information on how to apply here.
*
Who would I contact for further questions about LCI?
You are welcome to contact LCI's Faculty Director, Dr. Kenny Nienhusser at Kenny.Nienhusser@uconn.edu.
You are also welcome to reach out to LCI Floor Mentors to ask students questions about LCI.
General questions about Learning Communities and how to apply can be directed to the LC office at livelearn@uconn.edu.